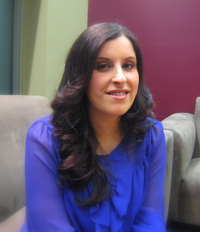 Continuing on from my 2010
Inkys shortlist & interviews post
, I have a mini-interview with the winner of last year's Gold Inky and one of this year's judges,
Randa Abdel-Fattah
!
Steph: Tell me a bit about yourself (perhaps your favourite books!), and how you came to be an Inkys judge. Are you a writer yourself?
Randa: I'm a writer and lawyer. I write young adult novels (
Does My Head Look Big In this?
was my first and my most recent is
Noah's Law
, a teenage legal thriller). I also now write junior fiction and I'm releasing my first junior fiction titles in March 2011-
The Friendship Matchmaker
is the first and
Buzz Off
is the second. Oh and I've just signed up for my first adult novel. I was invited to be an Inkys judge as I had the honour of winning the Golden Inky in 2009 for my novel,
Where the Streets Had A Name
.
Steph: Have you read differently as a judge than you read normally, for enjoyment? Have you enjoyed the judging process? (The discussions, etc.)
Randa: Actually, I made a point of not approaching the books any differently. I didn't want to make an artificial assessment of each book's worth. The things that make me love a book as a reader- character, plot, voice, style, that extra magic- are equally relevant when I read with a judge's hat on. I think it was extraordinary that the shortlist for the Golden Inky was virtually unanimous- a clear indicator that the books truly deserved the recognition they received.
Steph: I know you're not allowed to talk about favourites... but I'm just wondering, do you have a clear favourite to win at this point? (Don't tell me what it is!)
Randa: No I don't. I honestly think the shortlisted books are neck to neck and equally worthy of the final prize. I can't wait to see what Australia's young adults have to say!
--
Thanks so much, Randa! For more details about the Inkys and to vote, head to
Insideadog
and check out Randa's website
here
.